Healthcare
The healthcare and medical systems are converging taking advantages of innovations backed by evolution of information and communication technologies. This convergence is enabling healthcare professionals improve traditional patient care services as well as device new ones.
Bio-Analytical Technologies has vast knowledge in healthcare and medical systems development. Based on this foundation BAT offers solutions in various areas, for example clinic management, EMR/EHR, instrument development and system/instrument integration. This enables BAT maintain its endeavor of adding quality, value and comfort to human life.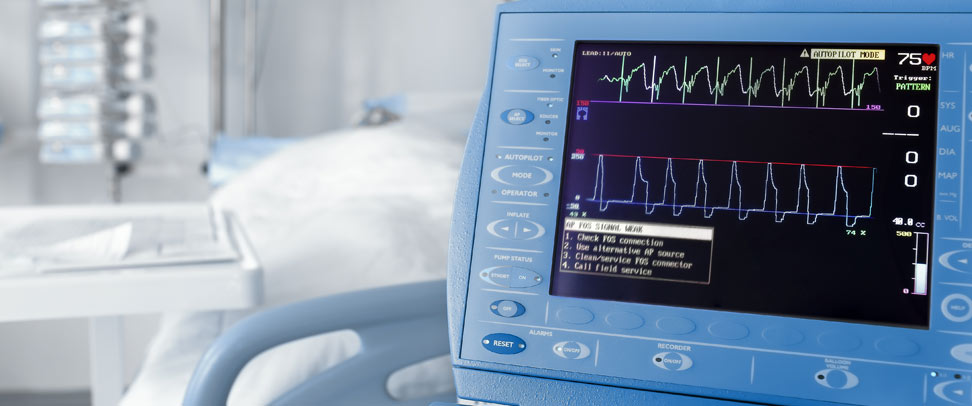 BAT has significant expertise in providing healthcare software solutions for preventive, curative and palliative interventions. BAT offers instrument development and system/instrument integration services to various instrument manufacturers and point of care sites. BAT has experience in efficient retrieval, control, processing and integration of electronic data.
Point of Patient Care
BAT has provided solutions for managing various workflows and exercise appropriate controls to the Polyclinics, multispecialty Hospitals and diagnostic laboratories to provide patient centric services.

The clinic and hospital management systems provide features like Patient Medical Records, Doctor/therapist schedule and appointments, administrative activities that encompass workflows. The solutions help automate the workflows by maintaining the records related to Patient Complaints, Patient History, Systemic Examination, electronic Case Paper and other reports customized for various roles, departments and organizations.
BAT has expertise in Pathology Laboratory Management Software which supports efficient laboratory management, manages patient reports, commercial records and administrative activities of a laboratory and supports single center and multi-center lab setup.
Patient Care
BAT has experience in developing software which plays significant role in Patient care, Patient monitoring and Patient follow-up. BAT has provided solutions that help maintain "pre-in-post" surgery, follow-ups and medical records of the patients. These solutions also consider analysis and tracking of patients' progress by the doctor.

BAT provides services related to Electronic Medical Record (EMR) / Electronic Health Records (EHR) within various environments. BAT has developed user-friendly, fully configurable and web based solution for EMR / EHR.
BAT supports various regulatory environments like NABL, HIPAA, CCHIT, ICD, 21 CFR Part 11, ISO 13485 and IEC 62304.
Systems Integration
BAT can provide system integration services to organizations / institutions by which the customer can interface two or more sub systems leading to better efficiency and higher productivity using integration standards like DICOM and HL7. BAT can help evaluate and implement tools, applications, processes, data and security features along with custom / bespoke application development.
Instrumentation
With its strong background in instrumentation, BAT offers multiple services for instrumentation in the healthcare and medical technology industry. BAT has experience supporting end-to-end product development life cycle for medical devices of various classes.
BAT helps client in development of new instruments/software or porting/migration of part of or all system components as appropriate. This spans instrument hardware, firmware and software services for instrument and its interfacing, data acquisition, storage, processing and reporting.
BAT understands and implements design supporting RoHS, EMI / EMC compliance.
Success Stories
Software Development for Blood Pressure Monitoring Instrument
---
Domain : Medical Devices
Type : Software Product Development
BAT has worked with a medical device manufacturer that offer products and technologies related to blood pressure monitoring. BAT migrated a legacy software product associated with a hand held ambulatory blood pressure monitoring device to a new platform. BAT updated the software functionality with new data analytics and data visualization features as well as features that supported the new hardware functionality. BAT provided a solution that help customer manage concurrent users with a better intuitive workflow based user interface.
Product Development for SPO2 and Endoscopy
---
Domain : Medical Devices
Type : Embedded Product Development
BAT has worked with a medical instrument manufacturer to develop a hand held Android based Endoscope and vital signs monitoring device. The solutions offers the plug & play ability to interface with multiple diagnostic health sensors, a rich GUI and a web based server application integration. BAT helped customer provide a portable instrument that supported generating electronic records, report storage and generation.
Design and Development of Phaco-emulsifier system controller
---
Domain : Medical Devices
Type : Software & firmware development
BAT has worked with a medical instrument manufacturer to design and develop Phaco-emulsification system controller. The design considered critical parameters like vacuum sensing with required accuracy, macroscopic flow control and a fast control response. BAT provided a TFT based touch screen UI. The embedded Linux based system integrated Ultrasonic, Diathermy and Vitrectomy drivers. BAT helped the customer provide a serviceable indigenous product which has modular structure that supported ease of production.
Services

Markets
Testimonials More
"Shimadzu engaged Bio-Analytical Technologies (BAT) for an important addition across its software products suite. BAT designed and developed the application where we found that they are reliable service provider who treated Shimadzu as a valued customer. BAT delivered the solution with utmost flexibility yet as planned, on schedule which really made a difference to Shimadzu. At Shimadzu we definitely would consider BAT as a long term partner."

General Manager Research & Development

"The partnership with BAT has been a contributing factor in achieving the business goals for Waters MS division. We are pleased with the commitment and dedication exhibited by BAT practitioners and management. BAT has a team with strong domain and software life cycle expertise. BAT can be proud of its vision statement of solutions that make a difference"

Waters The Sciences of What's Possible.

"The BAT team are very professional, we have good communication and engagement with the team who are able to demonstrate a strong mix of life science application and software technical knowledge. This balance has delivered value in practice, allowing teams to get up to speed with our projects efficiently, and deliver on commitments without the need for constant supervision."

Software Quality Assurance Brooks Life Science