QoE Ally
"QoE" Ally (pronounced as "Key" Ally), is your solution for "Quality Oriented Execution". It is a digital transformation tool that helps automate any SOP driven Lab or Manufacturing Process.
QoE Ally, a versatile execution system for holistic and paperless GxP Compliance in Pharmaceutical plant. QoE Ally comprises of the relevant features of Document Management System (DMS), Enterprise Resource Planning (ERP), Manufacturing Execution System (MES), Data Loggers, Laboratory Information Management System (LIMS) and others systems used in pharmaceutical companies.
This resolves the problem related to the issue of integration / communication within the above systems, which most of the time is absent or inefficient. Also, this makes the Quality Management System proactive from a passive and reactive system, as the users now have the data in a single repository as against manually understanding, gathering, transforming and adding the data from multiple systems.
Therefore QoE Ally is a single Quality Control application to achieve the CGMP compliance. It supports all the aforementioned systems which are target of the CGMP.
QoE Ally will not only help improve the cost of compliance but also positively impacts both, the top and bottom lines of the business.
All put together QoE Ally is a one-stop-shop for a pharmaceutical organization. It is a system that supports a pharmaceutical organization for an ever increasing oversight of the regulatory authorities on manufacturing of their products. It keeps a company "audit ready" all the time!
A bird's eye view of the product is shown in picture below: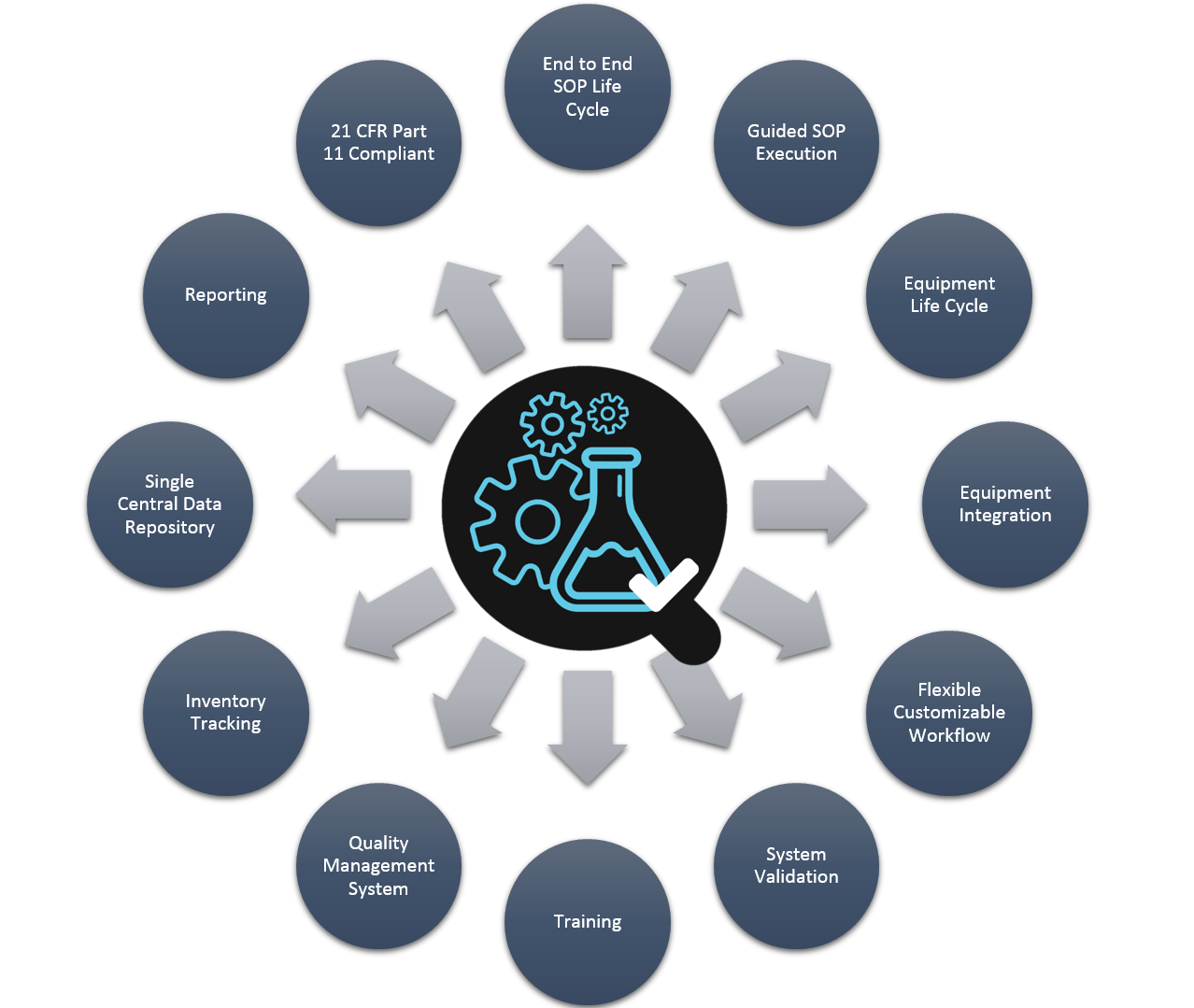 Salient Features
Supports 9 out of 10 CGMP principles

End to end management of SOP lifecycle

Guided SOP execution workflow helping reduce error and improve compliance

Central repository of SOP reference documentation

Flexible customizable workflow integrating manufacturing processes with laboratory, quality control, quality assurance, inventory tracking, document management and system validation

Central single repository for analytical records to establish compliance

Ensuring appropriate controls and automation for optimal compliance

Allowing user to define test flexibly as per their practical needs of automation

Centrally configured instrument communication to capture data directly from the instruments

Better control over calibration and preventive maintenance tasks

Inventory tracking (not management) to a container & location

Fully 21 CFR part 11 compliant system allowing location wise access control procedures, records and instruments

COA, BMR, APR & other customized reports

Plant wise or central deployment – whichever the mode, it is a very simple procedure

Supports on-the-job training of personnel and maintains training records

Browser based responsive intuitive user interface, i.e. Desktop or tablet based access possible

System developed with special attention to non-functional requirements such as user experience, performance and scalability

Local support available to customers by the qualified people
QoE Ally is the comprehensive solution for Pharma industry. It supports all the business functions in a pharmaceutical plant.
Benefits
One-stop-shop for integrated paperless pharma laboratory and manufacturing

Flexibility & customization to map your own processes. Adapt QoE Ally to your business processes and not vice versa

Reduction in data integrity related errors

Reduction in cost of compliance

Being audit ready all the time
Request your brochure today
Feature of Products
Testimonials More
"Shimadzu engaged Bio-Analytical Technologies (BAT) for an important addition across its software products suite. BAT designed and developed the application where we found that they are reliable service provider who treated Shimadzu as a valued customer. BAT delivered the solution with utmost flexibility yet as planned, on schedule which really made a difference to Shimadzu. At Shimadzu we definitely would consider BAT as a long term partner."

General Manager Research & Development

"The BAT team are very professional, we have good communication and engagement with the team who are able to demonstrate a strong mix of life science application and software technical knowledge. This balance has delivered value in practice, allowing teams to get up to speed with our projects efficiently, and deliver on commitments without the need for constant supervision."

Software Quality Assurance Brooks Life Science

"The partnership with BAT has been a contributing factor in achieving the business goals for Waters MS division. We are pleased with the commitment and dedication exhibited by BAT practitioners and management. BAT has a team with strong domain and software life cycle expertise. BAT can be proud of its vision statement of solutions that make a difference"

Waters The Sciences of What's Possible.